The journey from Alice Springs led through spinifex red desert country. We slept in dried-up riverbeds guarded by white gum trees, drove through flat scrub, walked upon white salt lakes that stretched for miles in all directions meeting charcoal skies. Stopped for respite in a place of great heat where underground cave-houses were found next to opal mines.
On the long road journey, driving steadily in a beat-up old car towards Sydney, I was accompanied by feelings of reluctance to leave the red desert; feelings of foreboding. Someone loved so ill.
As I gazed through the open window, my thoughts wandered back over the year just lived. Beginning with impressions of the Fifth Festival of Pacific Arts, which I attended in Townsville, Northern Queensland. For two weeks in August 1988, two thousand people from twenty-three Pacific nations came to share their dance, music, storytelling, art, crafts...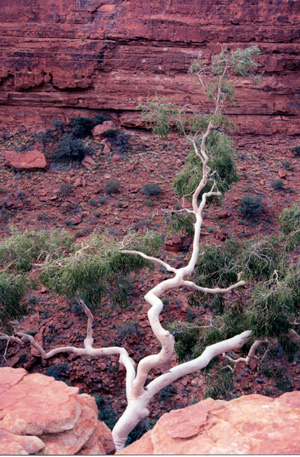 I remembered smiling faces, giving natures, men with strong, athletic, hairless bodies - some wearing grass skirts, some skirts of tapa cloth. Graceful women, skins glistening from a coating of coconut oil, flowing dark hair reaching past trim waists and gyrating hips - hips gyrating so fast and yet the upper torso held so still - arms elongated with hands and fingers turning telling stories. Elegant.
Old men and women with alive faces; sparkling eyes telling of lives richly led, and eager youngsters, and little ones, too, who try their utmost to do the dances, copying their elders as has been done since time immemorial.
Really big ladies - proud, ably dancing and singing. Tight curly hair. Skins of varying degrees of brown, some painted, some tattooed. Stripes, dots, dashes, curves in blacks, ochres, yellow, reds and blues and whites. Each design sacred, strokes of meaning; symbology abounds.
Headdresses. Stunning feather headdresses from birds of paradise. Plumage of vivid colours. Crowns of flowers, intricately woven, an art; making them can take many hours but, once worn, they can shrivel up in a day; yet it is the love story entwined in the making and the giving that matters.
Simple hair adornments: sprays of soft, floaty, red and fuchsia feathers, or just a leaf stuck into tight curly hair, or an hibiscus flower behind the ear.
Armbands and anklets of green pandanus leaves, anklets of seed pods jangling when feet stamped, complementing the rhythm of drum beats.
Drums: hourglass drums, wooden drums, carved drums, split drums, drums of massive hollowed tree trunks at least five feet long, an island drum five hundred years old, a half moon-shaped drum, bamboo drums. Drum beats. Percussion. Groups of drums talking with each other, calling, coaxing, directing, laughing, hypnotising. Drums: an integral part of communal lives, their customs and rituals, dances and songs, their cultures, their way of being with no separation.
Voices in harmony, songs of custom, of kinships, family and community ties, of the sea charting safe passages and good fishing, of the land, their ancestral lands. Aboriginal, Polynesian, Melanesian.
After the Festival, I returned to Sydney, my favourite city in all the world with its harbour, its bridge, and its spectacular opera house. Its beaches and city streets I knew by heart, friends of old. I love Sydney.
A small club, dark, packed with people dancing to a rock group's unique sounds, blending beats with the drone of a didgeridu played by an expert with a hook for a hand. Amplification of sounds, amplification of harmonics old. Body dancing, absorbing. Looking at the long wooden instrument, the player suddenly disappears, the other performers disappear, the audience disappears.
A zigzag pattern like a snake strobes fast before my eyes. A sensation of numbness overtakes my face and throat, preventing speech. Fear. Crouching on the floor amongst jumping legs, eyes closed tight, yet that zigzag pattern is still there undulating fast, fast, fast. After what seems an eternity it slows, slows, and its curves finally disappear.
An old Aboriginal spirit is seen.


After only a short sojourn I accompanied a friend and his didgeridu to Darwin in the Top End of the Northern Territory for a steamy hot and humid tropical few months in The Wet. I gained new experiences and impressions of the land and its Aboriginal people.
Singerman-storyteller and his family of wife, children, cousins from Elcho Island; natural performers of traditional bungal-dances, art, songs and stories. They collect ochres from beaches, mix 'em up rock into powder with water and spit for painting symbols, totems and signs upon their bodies. Hunting trips, beady sharp eyes watching, alert, spears held ready, waiting to strike. Men's place, women's place, delineated as of old.
Visits to ancient, timeless escarpments, rivers and water catchments, rocks with x-ray style paintings upon them, surfaces of secret/sacred doorways Ð kangaroos, snakes, fish, turtles, women dancers, men dancers, hunters, gatherers. Only a few elders left to decipher them, understand and keep their rituals strong for the ongoing sustenance of the spirits of old, their tribe, and the land itself.
Old ways disintegrating, dying...


leaving only traces in the air.
In flat country, a festival. Listening to various language groups from a northern territory. Song-cycles. Dances. Men and boys, flat feet stamping, stomping on earth, kicking up big dust storms of billowing dirt, dynamic movements sharp, short. Women with white-striped breasts, red skirts, moving together as one, shuffling barefoot, small hand movements, singing. Young ones giggling, babies smiling, boys playing footie. In the evening some Blackbella Mujik rock and roll.
Rock formation, high creek running into falls. A waterhole, pandanus tree-fringed, home to terrapins and freshwater crocs.
Following a night spent under brilliant stars, awakening to find people who shimmer and disappear as the serpent strobe effect affects sight, giving another vision.
From high above on rocks of old a stunning view to a far-off land is perceived in warmth.

Every day my friend would play his didgeridu. I absorbed its sounds and, in a natural way, would just dance.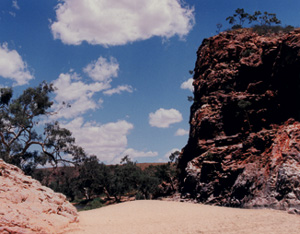 I spent a period of three full moons in that central desert country, giving rise to an expanded state of mind, a euphoria. Just walking upon the red earth, dotted with green spinifex bushes and low desert oak trees. Just exploring the landscapes of the three hundred million year old ranges. Just documenting stories of Aboriginal dreaming canvasses ... dots camouflaging maps, stories of beginning times with multi-layered meanings. Just being in hot dry air, dust storms, pockets of air thickened with stories still potent, though invisible, and barely audible to those who hear their whispers...... whispers...... leaving traces in the air.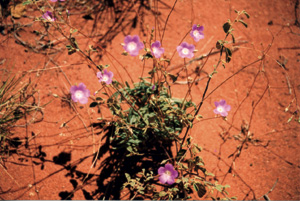 My dance came out of the desert, the red desert of Central Australia.
Seventeen hours on roads took us out of the desert, straight south towards Adelaide, turning at a range covered with tall old trees. Due east, the land became less harsh, lots of gummies, hills, wheat fields, jacaranda trees with their purple-lilac springtime finery, mountains of blue and...
the two-way forked destiny that was waiting.